Newport
Newport is a new residential community located on the Redcliffe Peninsula, north of Brisbane, with distinct landscape and design features. The centerpiece of the development is an engineered lake providing residents with direct access for watercraft through to the lock into Moreton Bay.
Location & Year
Kabi Kabi Country
Newport, QLD
2015-ongoing
Key Services
Masterplanning & Urban Design
Concept Design
Detailed Design
Contract Administration
Awards
2018
Landscape QLD Construction Excellence Award, Best Landscape Feature, Highly Commended (Ace Landscapes) - Entry Wall
CUSP's involvement with Stockland's Newport Development project has spanned the early phases of urban and masterplanning design, through to the detailed design and construction administration of the ongoing development.
In the early planning stages CUSP identified key design opportunities, and recommended the development layout be adjusted to maximize view corridors to the lake and enhance the interface between public realm and adjoining waterbodies.
Design solutions included a 'green spine', providing a shaded pedestrian and cyclist route running through the heart of the development, forming a continuous connection from the lake to Kippa-Ring train station in the south. As part of the overall masterplan, three open space areas were identified to provide a diversity of waterside recreational space, with paddle craft access into designated areas of the lake.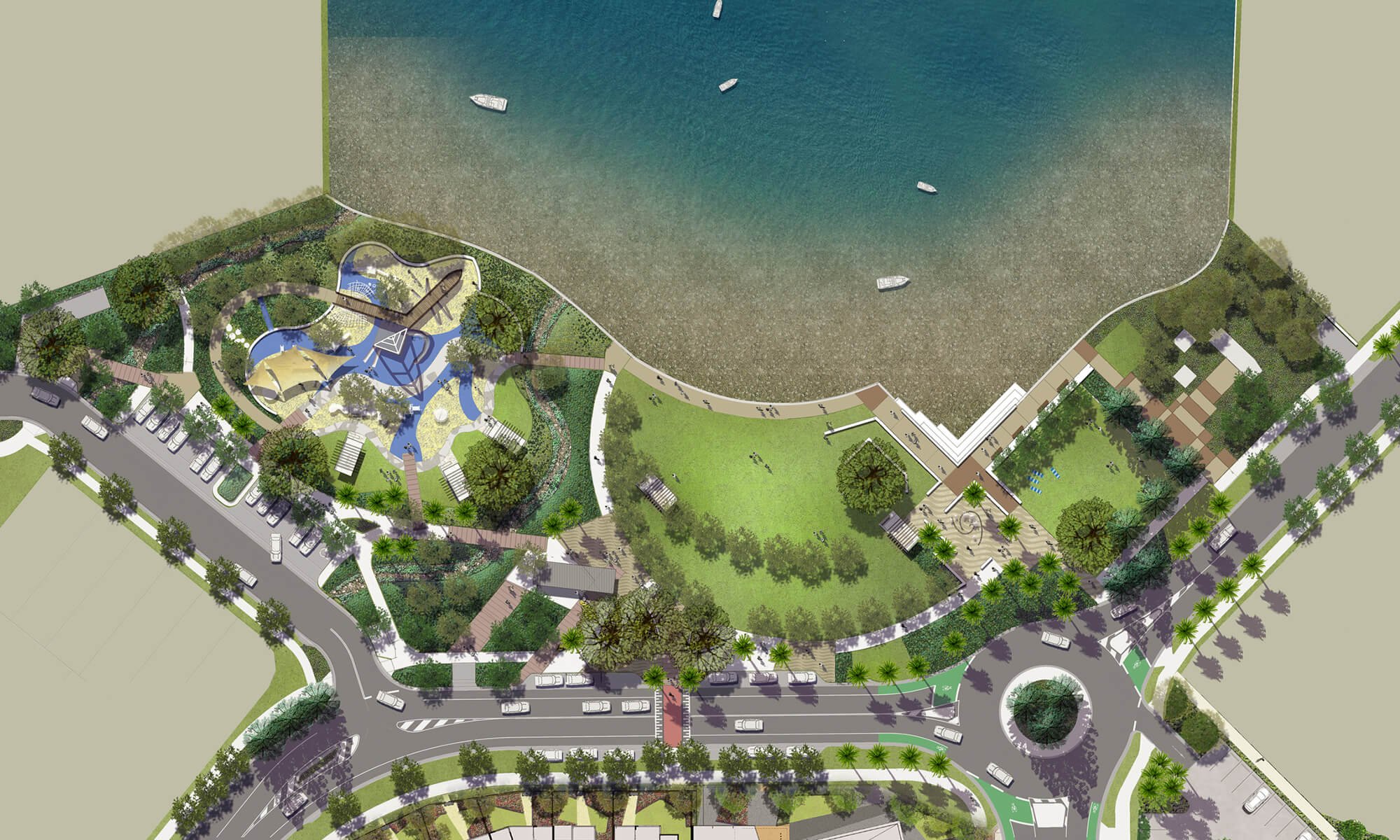 A high-quality mix of active and passive recreational activities as well as important community gathering event spaces, public art, and amenities will be provided by an esplanade park on the peninsula of the development overlooking Moreton Bay, a lakefront park, and a neighbourhood park located centrally within the development.
Careful consideration has been given to the selection of materials and plant species that reflect the unique bayside setting of Newport, while also being able to withstand the environmental conditions that are characteristic of a coastal location.
CUSP were also involved in the Newport Commercial Centre and have completed the Newport Retirement Village within the large Stockland project.