Queens Wharf
Brisbane's Queens Wharf development, located in the Central Business District, will provide Queensland with a new lifestyle and entertainment precinct. CUSP is proud to be engaged in providing urban design, masterplanning and landscape architectural services for this large scale, influential project.
Location
Turrbal and Yuggera Country
Brisbane, QLD
Client
Destination Brisbane Consortium
Key Services
Masterplanning
Concept Design
Detailed Design
Construction Services
Brisbane's Queens Wharf Development is recognised as one of the largest private infrastructure projects currently undertaken in the Southern Hemisphere. The scheme includes widespread and complex public realm improvements, the adaptive reuse of heritage buildings, and iconic architecture in order to evoke the essence of Queensland's enviable indoor-outdoor lifestyle. The project is Brisbane's first to be awarded a 6 star Green Star Communities rating by the Green Building Council of Australia, representing 'world leadership in masterplanned communities' (GBCA).
A passionate team of CUSP designers led by Stephen Pate, Daniel Wright, Phil Kleinschmidt and Andrew Tomlins were responsible for ensuring the successful connection of Brisbane City to the River; considering the broader context of existing public realm via a series of cross block connections; the reimagining and activation of 1.2km of previously neglected river forshore; a new pedestrian bridge connecting the City to Southbank and; Public Plaza levels within the IRD, including the Sky Walk.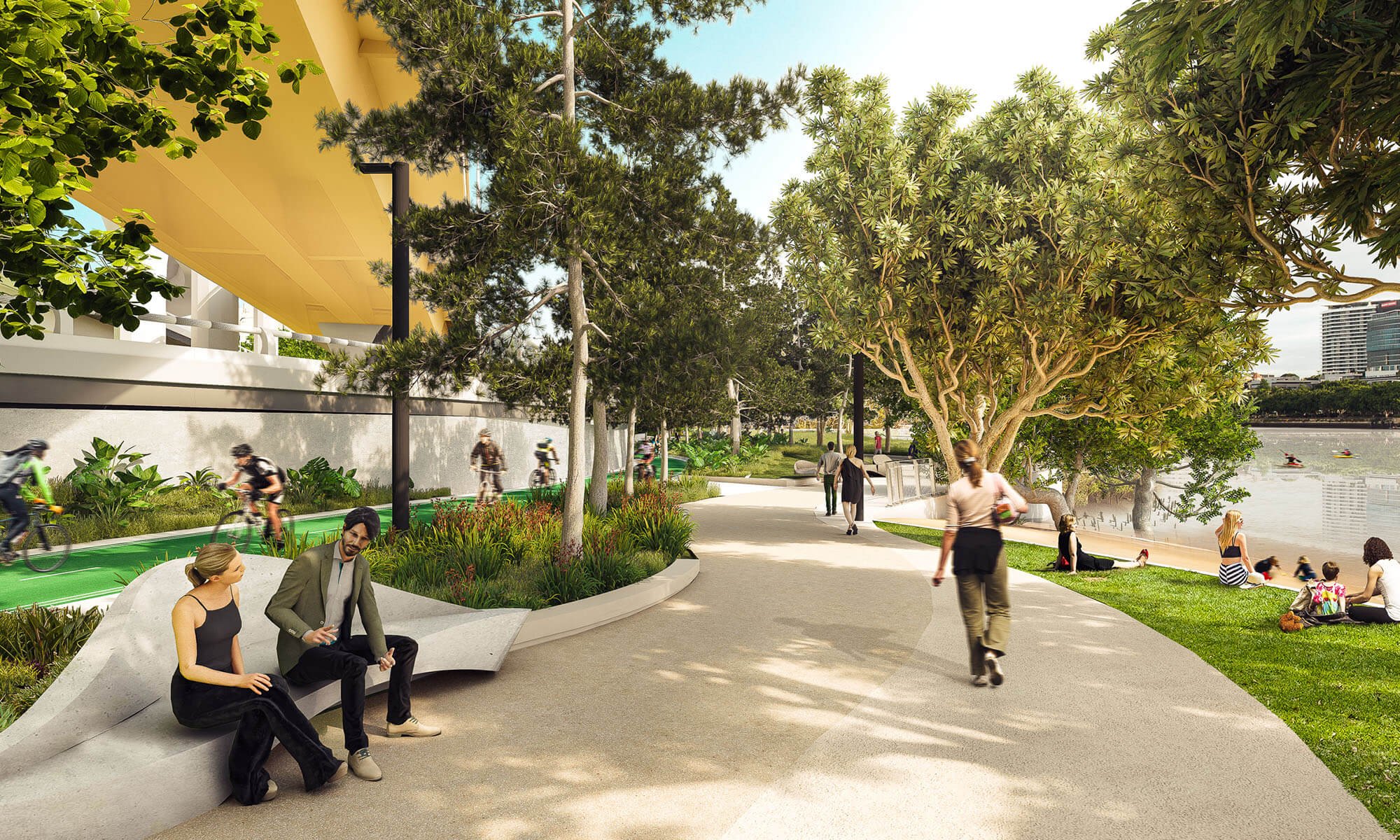 The scale of this project demanded a highly skilled multi-disciplinary team, through which CUSP have proudly collaborated with, including Cottee Parker Architects, Jerde, ML Design, Urbis, RLB, WSP, JLL and Scharp, ARUP, BAW, WSP, TTM, and UAP
"The environmental objectives are impressive, and include sustainable buildings that suit Brisbane's sub-tropical climate, a central energy plant to reduce reliance on non-renewable energy sources and the revegetation of existing mangroves along the river front....equally impressive are the initiatives designed to build great places for people. Queen's Wharf Brisbane will be designed to inspire healthy and active living, to encourage economic prosperity and to foster social inclusion," Romilly Madew, Executive Officer Green Building Council of Australia