The Pearl Resort, Fiji
CUSP was engaged to provide strategic overview and master planning advice for the resort's expansion and revitalization.
Location
Rovodrau Bay, Fiji
Client
Heritage Fiji Limited
Key Services
Masterplanning
Concept Design
Detailed Design
Construction Services

Located on Pacific Harbour's beach, near Fiji's capital Suva, the Pearl Resort epitomizes the sublime environs of the Pacific, with its lush tropical landscapes and views over Beqa Lagoon. CUSP was responsible for design advice in areas pertaining to the pedestrian/maintenance circulation network; a major new lobby /Porte cochere; enhanced lagoon area; a riverfront promenade to interface the new Marina; and associated external areas to the additional accommodation, bars/restaurants, wedding chapel and day spa/ gymnasium.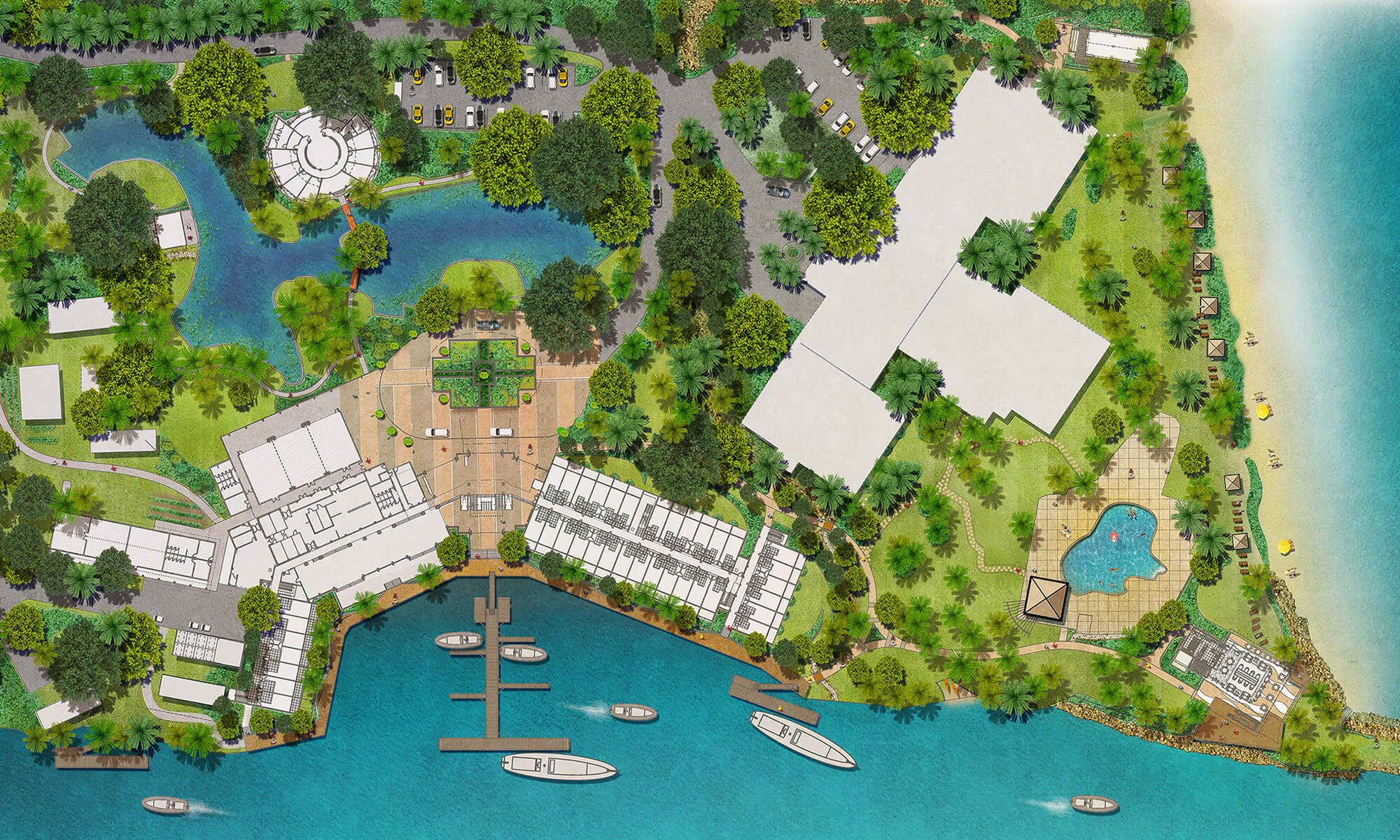 CUSP's approach was to enhance the site's strengths by showcasing its' natural assets; the existing mature vegetation; the location, combining riverine and coastal interfaces, and the traditional cultural landscape, with particular focus on the endemic species.
The design utilized the inherent mature vegetation structure; opened views to Rovodrau Bay and its islands of Beqa and Yanuca; activated the beach zone whilst providing shelter from extreme wind conditions and wave erosion and; ensured that the new and existing buildings were integrated within a coherent lush tropical landscape.
A feature of the design that links with the cultural heritage of Fiji are the Lovo, traditional Fijian BBQ spaces that function as a productive element available for use by residents and staff.
CUSP played an active role throughout the expansion of The Pearl Resort, providing design and construction services to ensure the vision of the Masterplan was delivered.